J. Curtis Brown Jr. is an artist from Akron, Ohio (currently based in Oakland, California) who works with music, multimedia, and writing with an emphasis on the experiential, experimental, and mystical. He has released a wide range of art objects and taken place in numerous solo and collaborative performances and exhibitions throughout the United States.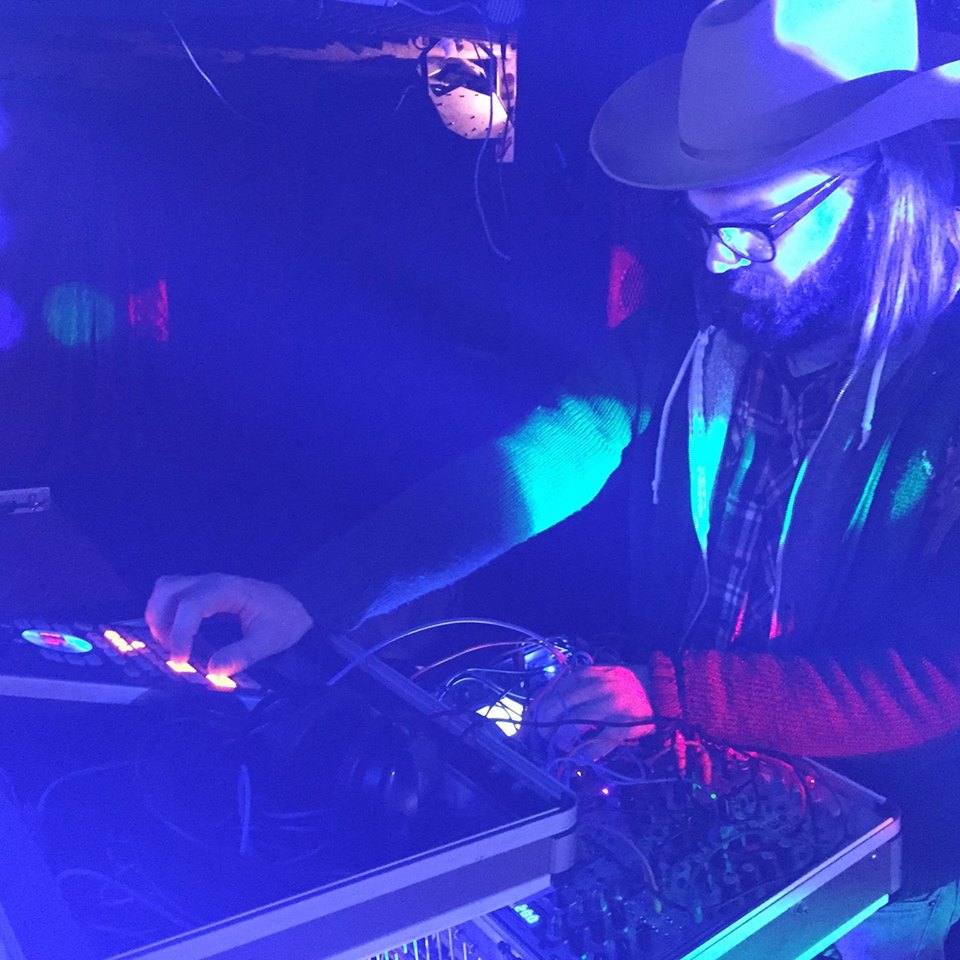 In 2010 he co-founded the Rubber City Noise art collective & record label and the Center for Audio/Visual Experimentation (CAVE) in Akron. He moved to Oakland in 2014 and founded Eucarya Press to publish printed media and multimedia.
He holds a B.A. in English & Creative Writing from the University of Akron (2010), an M.F.A. in Book Art & Fiction from Mills College (2016), and an M.F.A. in Electronic Music & Recording Media from Mills College (2019). He has studied writing, music, and art with Mary Biddinger, John Bischoff, Chris Brown, Julie Chen, James Fei, Fred Frith, David Giffels, Micheline Aharonian Marcom, Roscoe Mitchell, Zeena Parkins, Maggi Payne, Robert Pope, Daniel Schmidt, Laetitia Sonami, Les Stuck, Kathleen Walkup, & William Winant.
He has released music and performed as —
Baingan Bharta
Black Unicorn
blckdth (w/ Ben Osborne & J. Guy Laughlin)
Cane Swords (w/ Karl Vorndran)
Dennis Franz Kafka (w/ Tom Weeks, Alexander E. Cohen, Fletcher Pratt, Sam Genovese, Raphael Radna, Nathan Corder)
Dodecahedrons (w/ Flora Nevarez)
Eucarya
Eukaryotik
hyrlvl. collective (w/ R. Adam Berk, William Emerson Dixon, Corey Farrow, Chaka Clemens, Christopher Gator, Dez Drastik)
Map Collection (w/ Fletcher Pratt)
Mousecop (w/ Joshua Maxon Novak)
Pankak (w/ Corey Farrow, Joseph Minadeo, Pat McNulty, Matt Horak, Josh Goran)
Peanut Twins (w/ Alexander E. Cohen & Kim Nucci)
Simple Machine (w/ William Emerson Dixon, R. Adam Berk, Joseph Minadeo, Corey Farrow, Pat McNulty, Krista Tortora)
The Black Eyed Keys (w/ Joshua Maxon Novak, J. Bryan Parks, Karl Vorndran, Ram Youssefi)
Wyld Stallyns (w/ Ben Osborne)
& an ongoing book/album series with composer Joseph Minadeo
His music has been released by Deep Distance, Field Hymns, Further Records, Hausu Mountain, hyrlvl. records, Midori Records, Never Anything Records, Patternbased, Rubber City Noise, & Under the Spire.
His work has been exhibited at Aggregate Space Gallery, Center for Audio/Visual Experimentation, Mills College Book Art Pocket Gallery, San Francisco Center for the Book, & Square Records.
His writing, editing, and visual art have been published by Coreography Council, Eucarya Press, Experimedia, Foxy Digitalis, Infraction Records, Impose Magazine, Rubbertop Review, & The University of Akron Press.
His work has been featured in Clash Magazine, Decoder Magazine, Tabs Out, Tiny Mix Tapes, The Wire, Wonderland Magazine, & more.
contact: eucarya [at] eucarya dot net